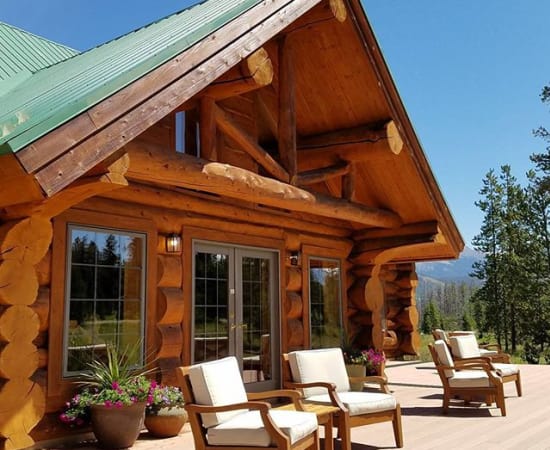 The Perfect Mountain Escape
Handcrafted from 400-year old logs, moss covered rock and giant picture windows, the Wild Horse Inn is reminiscent of the grand mountain lodges built at the turn of the 20th century, back when Colorado was rough around the edges and refinement had a distinctively rustic flair.
The Wild Horse Inn offers rustic, yet elegant lodging in the heart of the Rocky Mountains with a choice of Inn rooms or private cabins, all with access to the hot tub, on-site massage services and a sweeping view of the continental divide!
Spoil yourself with our gourmet breakfasts, a warm cup of Tea or treats from the cookie jar! All guaranteed to provide the necessary fuel for your mountain adventures. Borrow a book from our library, look over the local maps to find your next hiking trail, or wrap up in one of our comfy robes and sip a cup of hot chocolate in front of the big stone fireplace. We can also arrange a luxurious massage for you and your special guest. No need to go out, just put on a robe and let us pamper you right here at the Inn!
Our staff is always available to assist in making your experience the best it can be. We know all the great hikes, the best places to get a glimpse of the local wildlife and where all the music & fun is happening in town. Please don't hesitate to ask for assistance-we love to help our guests!
There are endless ways to enjoy your Rocky Mountain experience at the Wild Horse Inn Bed & Breakfast.
Packages
Thinking of making your stay a bit more special? We have packages in every price range and would be happy to create one for you if you don't see exactly what your looking for. Massages, flowers or sack lunches-if you can dream it-we can create it! Many of our packages include fun filled activities that take advantage of the numerous Summer/Winter activities available in the Winter Park/Fraser Valley. Please feel free to call us at the Inn if you need assistance.
Learn More
Gift Certificates
Share the many comforts of the Wild Horse Inn with someone special! Gift Certificates can be used for any room nights, goods, packages or services at the Inn. There are no black out dates or restrictions and Gift Certificates are always transferable. Our average two-night stay year round is about $450. Please call us with any questions.
Purchase Now
Weddings
In essence, all weddings are a basic question and answer. But, just as every couple is unique, no two weddings should be identical either. Whether you envision a lavish outdoor wedding, a casual barbeque or an intimate seated dinner for close family and friends, Wild Horse Inn offers a special blend of professional experience and personal attention to make your wedding day beautiful and memorable.
LEARN MORE
Happenings in and around the Inn...
PHONES ARE DOWN IN THE AREA! OUR APOLOGIES!
Century Link has cut the phone lines in our area, and phones will not be back up until Tuesday October 8th. Please send us an email and we can respond to your requests! You may also book reservations online. Again we do apologize for any inconvenience!
---
GIVE THE GIFT OF THE WILD HORSE INN!
Great gift idea for the person who has everything! Our new online access makes it super easy-just click on the "PURCHASE NOW" button under the Gift Certificates heading on our home page.
---
Be sure to visit www.playwinterpark.com for all the exciting events going on this Summer in the Winter Park/Fraser Valley. Look for their CALENDAR on the website for music events and more!
---
CHECK OUT OUR EMAILS! We offer $25 off your next stay to our returning guests. Use the code provided in your post-stay email to take advantage of this offer! Just enter the code the when you book online!