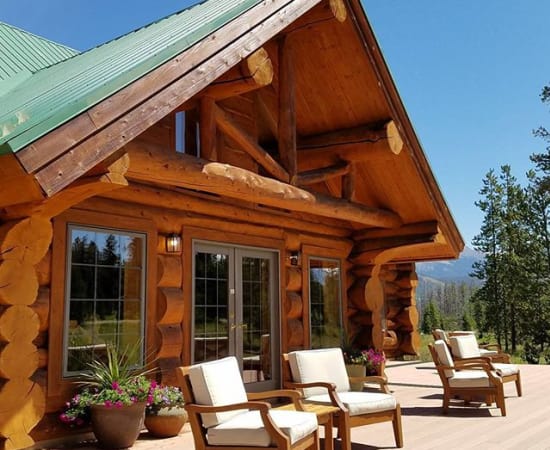 The Perfect Mountain Escape
Handcrafted from 400-year old logs, moss covered rock and giant picture windows, the Wild Horse Inn is reminiscent of the grand mountain lodges built at the turn of the 20th century, back when Colorado was rough around the edges and refinement had a distinctively rustic flair.
The Wild Horse Inn offers rustic, yet elegant lodging in the heart of the Rocky Mountains with a choice of Inn rooms or private cabins, all with access to the hot tub, on-site massage services and a sweeping view of the continental divide!
Spoil yourself with our gourmet breakfasts, a warm cup of Tea or treats from the cookie jar! All guaranteed to provide the necessary fuel for your mountain adventures. Borrow a book from our library, look over the local maps to find your next hiking trail, or wrap up in one of our comfy robes and sip a cup of hot chocolate in front of the big stone fireplace. We can also arrange a luxurious massage for you and your special guest. No need to go out, just put on a robe and let us pamper you right here!
Our staff is always available to assist in making your experience the best it can be. We know all the great hikes, the best places to get a glimpse of the local wildlife and where all the music & fun is happening in town! Please don't hesitate to ask for assistance-we love to help our guests!
There are endless ways to enjoy your Rocky Mountain experience at the Wild Horse Inn Bed & Breakfast.
The Rockies in Summer-simply spectacular!
Visit WWW.PLAYWINTERPARK.COM to see all the exciting things going on in the Winter Park/Fraser valley this Summer!
We have "music venues" four nights a week, some of the most beautiful hikes in Colorado, incredible fishing, hot air balloon rides and all the mountain biking you can squeeze into your stay.